David Edwards Online
Actor | Director | Musical Theatre Consultant
2010 IN REVIEW:
it's official. he's the scroogiest --> What do you get when you do a musical mashup of two holiday classics -- A CHRISTMAS CAROL and THE LEGEND OF SLEEPY HOLLOW? You get this year's December offering at the Westchester Broadway Theatre entitled A SLEEPY HOLLOW CHRISTMAS CAROL, of course! David makes his return to the Elmsford institution as Scrooge making his classic journey of nostalgia and redemption -- but with a whole new twist. Be sure to join in the festivities this December 1 - 26. Learn more.
60 years of the gypsy robe --> Last month David was one of the lucky few invited to the incredible evening put together by Actor's Equity to pay homage of this time-honored tradition. David was joined by scores of fellow recipients including the likes of Patti Karr of Richard Chamberlain revival of MY FAIR LADY, Joyce Nolen of SMILE, Judine Somerville of HAIRSPRAY and Carmen Ruby of AVENUE Q.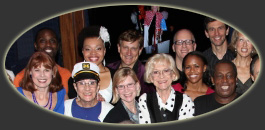 Various robes were paraded throughout the evening which was held at the gorgeous SEQUOIA down at South Street Seaport offering some truly breathtaking views of the southern tip of Manhattan. Cocktails and sumptuous hors d'oeuvres were savored. Vivid stories were recounted. New friends and old came together to share their memories of receiving the robe for their respective Broadway shows just as David did for his participation in the original Broadway cast of BY JEEVES. See pictures at broadwayworld.com.
a very surflight fall--> David returned to the Jersey Shore to croon favorite American standards in THE MELODY LINGERS ON, a revue of Irving Berlin hits. The crowd-pleaser played to packed-houses and boisterous ovations.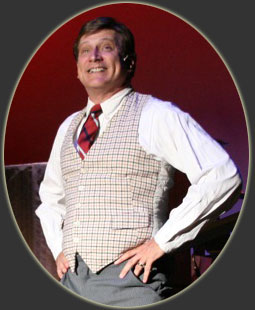 Immediately following David joined the cast of the popular backstage farce, NOISES OFF, as the show-within-the-show's put-upon director.
Then David directed Neil Simon's LAST OF THE RED HOT LOVERS. It's the hilarious tale of a middle-aged man trying to spice up his life with an extramarital romp. This hilarious and touching production rounded out the fall season this past October.
hook in july -->David made his debut at the Gretna Theatre in Pennsylvania in PETER PAN this July, giving his own villainous take on the role of Captain Hook made famous Cyril Ritchard.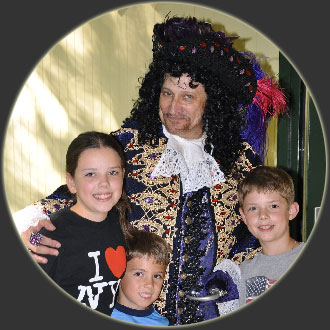 David takes some time during his stint as Captain Hook to visit with niece Celine and nephews James and Jack.
david does barbary lane --> David joined the cast for the recent staged reading of the Broadway bound TALES OF THE CITY. Bookwriter Jeff Whitty and director Jason Brown of the 2004 Best Musical AVENUE Q join creative forces with songwriters Jason Sellards and John Garden of the pop band Scissor Sisters. This musical treatment of Armistead Maupin's story of intrigue and extreme serendipity was be presented to an invitation-only audience in New York City on Friday, March 26, 2010.
Continue to 2009 in Review....
Actor Resume (PDF) | Director Resume (PDF) | Audition Service (PDF)| Demo Song (WMA)
(c) 2011 tjava.com