David Edwards Online
Actor | Director | Musical Theatre Consultant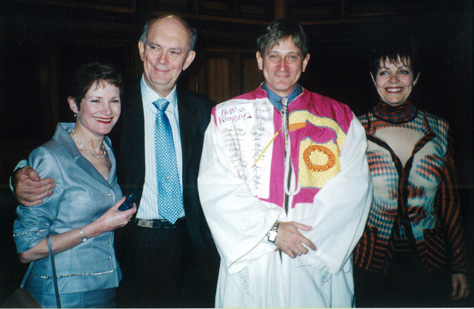 David with Lady Ayckbourn, director/bookwriter/lyricist Sir Alan Ayckbourn and choreographer Sheila Carter at the reception of the Gypsy Robe.
A departure from the typical mega-musical amongst the Lloyd Webber canon, this music-hall style comedy is perhaps most famous for the being the first show to open on Broadway after the tragic events of September 11, 2001. Only running three months, this show never truly found its audience but existed centrally amidst the lighter fare that kick-started the return to normality. This was the season of such giants as URINETOWN and THE PRODUCERS of which David became an integral part in it's Leo Tour two years later.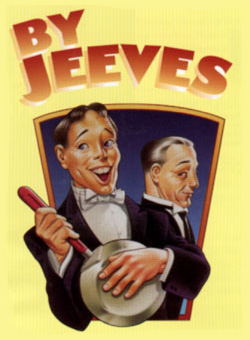 Serving as understudy for Jeeves, Budge, Bassett and Harold "Stinker" Pinker, still the most notable event for David was his receipt of the Gypsy Robe, a time-honored tradition in the Broadway community. The tradition is that the robe is passed from show to show and each company creates its own theatrical addition to the robe -- for the BY JEEVES cast it was a formal suit sleeve with white towel draped over as homage to the central character's profession as butler to Bertie Wooster.
Underappreciated in its season the score contains some clever lyrics courtesy of Director/Bookwriter/Lyricist Sir Alan Ayckbourn. By Jeeves is sure to live on in the regions due to its modest productions values and small cast.
(c) 2011 tjava.com