David Edwards Online
Actor | Director | Theatre Professional
2009 IN REVIEW: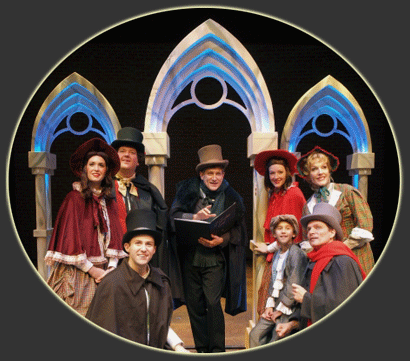 David helped New York audiences ring in the holidays in THE CHRISTMAS VOYAGER at the Westchester Broadway Theatre. This light confection was a tongue-in-cheek look at the Christmas holiday through the eyes of an alien who finds this tradition -- well, alien. The show boasted a host of favorite traditional and contemporary songs and David played a calvade of characters including Dickens, Scrooge, Tchaikovsky and one of Santa's elves. Learn more...
Immediately prior his currently merrymaking endeavor David returned to the city from the Jersey Shore (yes, that one!) after playing a pair of juicy roles this past fall.
He starred in the Kaufmann and Hart classic, THE MAN WHO CAME TO DINNER where he was "...perfect, absolutely perfect, as Sheridan Whiteside," according to Rick Mellerup of The Sandpaper.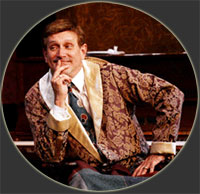 Following this triumph he played Felix Ungar opposite Walt Willey's Oscar in THE ODD COUPLE. Walt is perhaps best known for his work on ALL MY CHILDREN as Jackson Montgomery, Surflight Theatre's best-selling non-musical to date.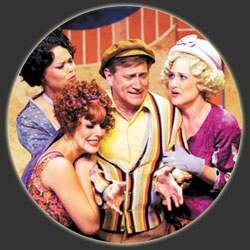 Summer saw David impressing audiences at the Merry-Go-Round Playhouse in the Finger Lakes during its production of NO, NO NANETTE....
"David Edwards is quietly superb as Jimmy, the moral man with a heart of gold; he plays his part subtly and straight, not as parody."
--Barbara Adams, The Ithaca Times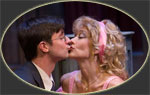 David's 2009 production of BY JEEVES in Michigan received a nomination for Best Musical or Musical revue for the 2009 Wilde Awards. Named in honor of 19th-century playwright Oscar Wilde, The Wilde Awards were established by Pride Source Media Group in 2002 to honor the excellent work produced by Michigan's professional theaters. The awards symbolize the close relationship that exists between the LGBT and theater communities.
CALIGULA, by Eric Svejcar got a new reading at New World Stages in Manhattan. In this glam-rock treatment of this historical tale of unbridled sex and power, David played Tiberius, Caligula's uncle and core influence. He rejoined Euan Morton who assumed the title role. Matt Bogart portrayed Caligula's father, Germanicus. David and Matt previously shared in stage in San Diego at the Old Globe in the world-premiere of HIMSELF AND NORA in 2005. Check out the photo coverage on BroadwayWorld.com.
Actor Resume (PDF) | Director Resume (PDF) | Audition Service (PDF)| Demo Song (WMA)
(c) 2011 tjava.com