David Edwards Online
Actor | Director | Musical Theatre Consultant
Remember the last days of the original run of THE FANTASTICKS.
There's over 13 minutes of interviews, footage from the show
and even a very special treat if you stick around until the end. Enjoy!

"Edwards brings the kind of charisma to the role that would make one hope he'll hang around for a while before making a career leap forward as numerous El Gallos (and Matts and Luisas) have done in the past."
-- Elyse Sommer, Curtain Up
On its 17,162nd performance David Edwards became the last man ever to sing one of the most beloved standards from the American Songbook, "Try to Remember", at the Sullivan Street Playhouse. The illustrious audience included show creators Harvey Schmidt and Tom Jones as well as original cast member, Rita Gardner. They and the rest of the lucky attendees hung on each lyric as they shared the experience of witnessing the final performance of the record-breaking off-Broadway run of THE FANTASTICKS. That night David Edwards cemented his place in musical theatre history.
On January 13, 2002 the second floor gallery at the Sullivan Street Playhouse was packed to the rafters as the New York theatre family crowded around a closed-circuit television allowing for more than the 149 ticket holders one floor below to bask in the glow of the romantic story of new love growing deeper with the passing of time. FANTASTICKS veterans ran from their respective current gigs to slide into the crowd to experience this lovefest and "remember" which after all, is "nice" to do.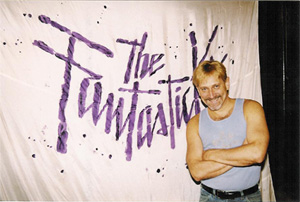 In the weeks prior fans stood outside sold-out performances literally weeping at the reality they were to see the show in this original incarnation no more. The rare available ticket sold for as much as $1000. The Sullivan Street Playhouse buzzed at it never had in its previous 42 years housing the jazzy masterpiece.
CNN, E! Television, NY1 and other key media outlets clamored after the show to get a sense from casts current and old what it was like to be part of this singular evening in the history of New York theatre.
(c) 2011 tjava.com