David Edwards Online
Actor | Director | Musical Theatre Consultant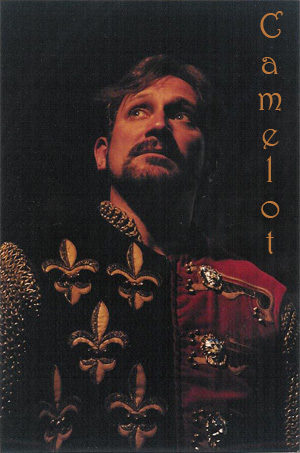 Photo courtesy of Pook Pfaffe.
RAVES FOR DAVID AS KING ARTHUR IN CAMELOT:
"Leading the list of those who deserve honors is actor David Edwards, the King Arthur…Edwards manages to strike the difficult balance needed to make this musical work. His Arthur is uncertain, impulsive and not overly bright while projecting the majesty required of the warrior king of Britain. He also captures the love and jealousy, despair and hope that make the conclusion of the play so poignant. It's a great performance. And he can sing, too. Very well."
-- Steven V. Cronin, The Press of Atlantic City
"David Edwards makes an appealing Arthur, who moves from boyish optimism to the recognition of human fallibility, enduring the knowledge that his best friend and dear wife love each other. The end, in which, facing death in battle, he entrusts the story of his dreams to the boy who will write them down, is deeply touching."
-- Marianne Evett, The (Cleveland) Plain Dealer
"Edwards masters the emotions and personality of a conflicted man, all the while note-perfect with pages upon pages of verse. Edwards' comedic timing had the audiences laughing the most all season…a fresh face and a welcomed one at that. His chemistry with (the other) actors is apparent, and he makes his mark with thrilling renditions of 'How to Handle a Woman' and 'I Wonder What the King is Doing Tonight." Edwards, by far, has the funniest lines in the production, and all are delivered with precise comedic timing."
-- Bre Golden, The Islander "
David Edwards portrays the adult king with a boyishness the role requires, as an inexperienced Arthur struggles with issues of life and love. Edwards maintains the boyish spark down to the last scene years later, when Arthur"s dreams are about to be trampled on the battlefield."
-- Russ Musarra, The (Akron) Beacon Journal "
David Edwards permits the king to grow from wishy-washy twit to a man of kingly dimensions by the end of the play, when his dreams and his love have been shattered. Edwards has a powerful voice that finds its home in the songs and lines that describe the king's losses and failures."
-- David Ritchey, West Side Leader
"Wow…What a trio…between them they blew the doors off the joint. Projecting subtle and nuanced emotions isn't hard in the movies. Doing it on stage is much more challenging and they pulled it off better than any other actor I've seen this summer.
-- Tom Wrona, The Beachcomber
(c) 2011 tjava.com